NEW PRODUCT (with original packaging) -- Xiaomi Mi Notebook 15.6-inch Intel Core i5-8250U 8GB + 128GB SATA + 1TB MX110 Laptop
The Xiaomi 15.6 laptop is a compromise between performance and price. Intel Core i5-8250U processor, 8 GB RAM, 128 GB SSD, Nvidia GeForce MX110, 15.6 inch FHD display, keyboard with Numpad, Dolby Audio with 3W x 2 Ultra speakers.
| | |
| --- | --- |
| CPU | Intel ® Core ™i5-8250U - Prozessor / bis zu 3.4 GHz |
| GPU | GeForce MX110 - 2 GB |
| RAM | 8GB DDR4 - DDR4 2400MHz (erweiterbar) |
| Interner Speicher | 128GB SSD + 1TB HDD |
| Speichererweiterung | Ja, durch Erweiterungsfach mit M.2 SATA |
| Frontkamera | 1MP |
| Bildschirm | 15.6 Zoll - 800: 1 Kontrastverhältnis |
| Auflösung | 1920 X 1080 Pixel |
| WLAN | Wi-Fi 802.11 b/g/n/ac - 2.4 Ghz + 5 Ghz |
| Bluetooth | Version 4.1 |
| Akku | 5.5 - 6 Stunden Akkulaufzeit |
| Extras | 3W × 2 Super Power Lautsprecher - Dolby Sound - Tastatur mit Numpad |
| Betriebssystem | Windows 10 Pro Multilanguage (DE, EN, ES, RUS, FR, uvm.) |
| Anschlüsse | 1x USB 2.0, 2x USB 3.0 - Triple SD Kartenleser - Ethernet Anschluß - 3.5mm Klinke - 1x HDMI |
| Gehäusematerial | Kunststoff |
| Gewicht | 2.18 KG |
| Maße | 382.0 x 253.5 x 19,9 mm |
| Farbe | Schwarz |

Xiaomi Notebook 15.6"
Der Preiskampf im Notebooksegment hat begonnen. Wie auch bei den Smartphones, beweist der Konzern aus Fernost mit seinem Notebook 15,6 Edition 2018 abermals, das Hersteller ihre Hardware weit günstiger anbieten könnten. Bei seinem Kampf gegen das Establishment verzichtet Xiaomi auf ein aufwendiges Marketing und lässt stattdessen Qualität und Fakten für sich sprechen: Prozessoren der 8. Generation, dedizierte Nvidia Grafikkarte, SSD Festplatte und ein großzügig bemessener Arbeitsspeicher werden zum absoluten Kampfpreis angeboten.

Aktuelle Prozessorgeneration
Anders als viele andere Notebooks im Mittelklasse Preissegment bietet Xiaomi keine veraltete Hardware in seinem Notebook an. Die Edition 2018 protzt mit modernen Komponenten und muss sich auch hinsichtlich der Leistung keinesfalls hinter weit teureren Konkurrenzmodellen verstecken. Herzstück des mobilen PCs ist ein Intel Coffee Lake i5-8250U Prozessor. Im Normalmodus weist die CPU eine Taktrate von 1,6 GHz auf, die bei Bedarf durch Boost auf 3,4 GHz gepusht werden kann. Mehr als genug Leistung also selbst für professionelle Anwendungen wie Photoshop oder Videoschnittprogramme.

Gaming für Einsteiger
Gamer hingegen freuen sich über die dedizierte Grafikkarte mit 2 GB Speicher im Innern des schlanken Gehäuses. Die Nvidia MX110 GPU kann sich selbstverständlich nicht mit den High-End Grafikkarten aus dem Top-Segment messen, bietet jedoch ausreichend Leistung für Gelegenheitsspieler, die auch unterwegs nicht auf ihre Games verzichten möchten. Vorteilhaft dabei ist zugleich der vergleichsweise geringe Energieverbrauch. Dadurch wird der interne Akku geschont und verspricht eine längere Laufzeit ohne Stopp am Ladekabel.

Üppiger Speicherplatz für kleines Geld
Bereits ab Werk ist das Xiaomi Notebook 15,6 in der Edition 2018 mit satten 8 GB DDR4 RAM ausgestattet, die mit 2400 MHz getaktet sind. Dabei werden zwei Steckplätze verwendet. Wem das nicht ausreicht, kann den Arbeitsspeicher auf bis zu 32 GB ausweiten. Somit stellt Multitasking für den mobilen PC kein Problem dar. Großzügig bemessen ist auch der interne Speicher des Notebooks. 128GB SSD sind im M2 Slot verbaut worden und garantieren ein besonders rasches Booten von Windows und anderen Anwendungen. Große Programme und Dateien lassen sich auf der verbauten HDD abspeichern. Diese bietet einen Speicherplatz von 1 TB.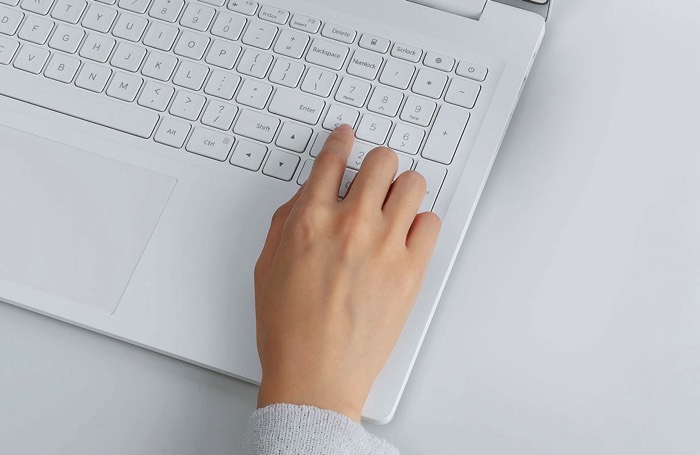 Robust und leicht
Streng genommen handelt es sich bei dem Xiaomi Notebook nicht um ein klassisches Ultrabook. Das Gehäuse des tragbaren PCs ist nicht aus Aluminium, sondern aus hartem Kunststoff gefertigt worden. Qualitativ kommt der Unterschied nicht zu tragen. Sowohl die Tastatur als auch das Mauspad haben einen angenehmen Hub und geben nicht unangenehm stark nach. Zugleich ist der Kunststoff ungleich leichter als sein Pendant aus Metall. Gepaart mit der gewohnt herausragenden Verarbeitung des chinesischen Konzerns bietet das Xiaomi 15,6 Edition 2018 ein Notebook an, das sich in Sachen Qualität problemlos mit signifikant teureren messen kann.


Multifunktionszentrale im kompakten Format
Trotz des Sparpreises hat Xiaomi dem Notebook zahlreiche Anschlüsse spendiert, die den Arbeitsalltag erleichtern und die Freizeit versüßen sollen. Zwei USB 3.0 Ports sowie ein USB 2.0 Anschluss bieten genug Optionen um Maus, Tastatur, USB-Stick, Festplatte oder andere Peripherie zu verbinden. Kopfhörer und Mikrofon lassen sich über einen 4-poligen AUX-Stecker mit dem Notebook koppeln. Ersteres wird nur bedingt benötigt, denn der Konzern aus dem Reich der Mitte hat Dolby-zertifizierte Lautsprecher mit einer Leistung von jeweils 3 Watt im Gehäuse verbaut. Ein SD-Card-Reader rundet das Gesamtpaket ab. Abseits der Anschlüsse können auch kabellose Verbindungen aufgebaut werden. Aktuelle WLAN-Standards sowie Bluetooth werden vom Notebook unterstützt.